How our process works
Whether you need funeral programs, memorial posters, funeral bookmarks, prayer cards or any other funeral/memorial related printing we have you covered. With the fastest turnaround in the industry, we can have your prints delivered to your door as soon as tomorrow. All of our designs are completely customizable. You can add, remove, or move anything you want on any of our designs. Insert your own poems, scriptures, photos and anything else you want to give the most accurate tribute to your loved one. Ready to begin? See how our process works below.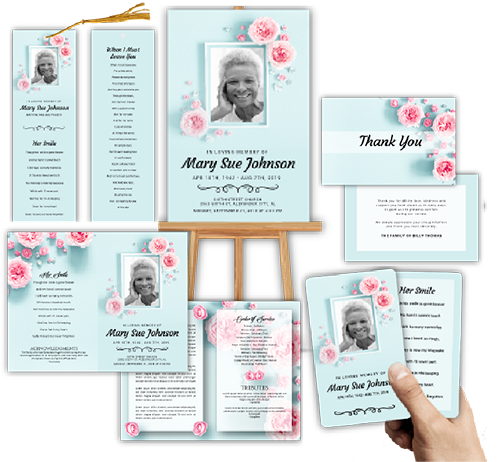 We have many different products to choose from. We even have complete memorial packages and unique options like "Share a Memory" cards to make your funeral service unique and memorable.
No-Fold Funeral Programs
4 Page Folded Funeral Programs
8 Page Folded Funeral Programs
Memorial Cards
Prayer Cards
Memorial Bookmarks
Memorial Posters
Death Annoucements
Funeral Fans
Folded Memorial Cards
Thank You Cards
and Much More!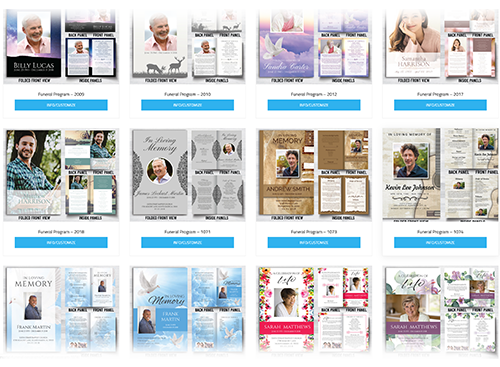 After you select a product you will see a list of different funeral/memorial designs to choose from. Most of our funeral designs are available across all the products so you are able to have a Funeral Program and a matching Funeral Bookmark or Memorial Poster for example. Once you decide on a design, you will click the blue "Info/Customize" button below the design.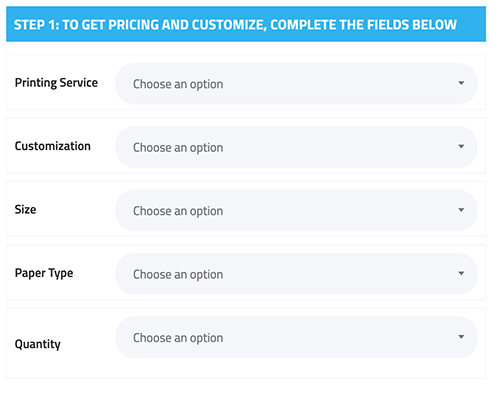 To get pricing, you will complete the drop down menus on the right side of the page. Make sure you have made a selection in each of the drop down menus. If any of the drop down menus still say "Choose an option" it will not populate a price. Once it populates a price, a yellow button will appear to either continue to the online design tool (if you selected "I will customize myself") or add to the cart (if you selected "Customize for me").
Decide on customization option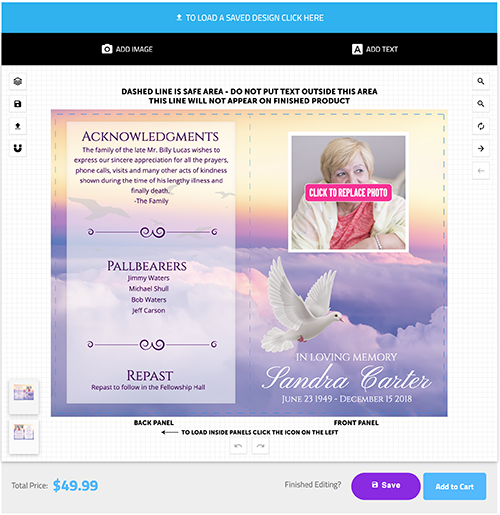 You have two options when it comes to customizing your design. The first option is to select "I will customize myself". If you go this route, you will continue to our online design tool where you will replace the place-holder text with your text and the place-holder photos with your photos. There are helpful videos at the top of the tool that show you how to use it. It is easy to use and we're here to help if you run into questions.
The second option is to select "Customize for me". If you go this route, you will first checkout, then immediately after checking out you will see a spot to upload your text and photos (you may also email everything). A professional graphic designer will then customize your design (usually within a few hours) and email you a proof to review. You will be able to request any changes you need and receive an updated proof. Once approved we will send it to print and ship the funeral product to your door.
Receive your funeral prints
Once you have either customized the design yourself or had us customize the design for you, we will immediately send to print. All funeral printing orders placed before 12:00pm CST Monday-Friday print and ship same day. You can have your prints in your hands as soon as next day with express shipping. To begin, click the button below and select a product. Should you have any questions, please contact us toll free 888-432-8363 or via our Live Chat.
What is a Funeral Program?
The funeral program (sometimes called a funeral obituary program, funeral brochure, funeral pamphlet or funeral order of service) is the printed program that is given out at funeral services or memorial services that outlines the funeral or memorial service and summarizes the life achievements of your loved one. Funeral programs and memorial programs can also be sent electronically, through email or posted to social media. Funeral programs can also be mailed to those who cannot attend the funeral service.
Funeral programs contain what is called an obituary. Funeral obituaries are life stories, accomplishments and public notifications about recently deceased people and they may have several different versions. While a newspaper obituary might be short and focused on survivors and funeral service information, the obituary in the funeral program can be longer and tell a more detailed story. It is the centerpiece of the funeral program, which can serve as a very informative keepsake about a person's life and also about the final services.
Funeral Programs normally contain the following:
Funeral Program cover photo, name, birth/passing date, funeral service location/dates/time.

Funeral Program Order of Service
Funeral Poems, scriptures, pallbearers, acknowledgments, etc.

Memorial Photo collages
Funeral Programs are usually laid out as follows:
Funeral Program Front Cover (usually contains a photo, name, dates and service location)

Funeral Program Inside Left (usually contains the obituary)

Funeral Program Inside Right (usually contains order of service)

Funeral Program Back Cover (usually contains poems, pallbearers, acknowledgments, photos, etc.)

Depending on the size and number of pages you select for your funeral program there will be room for tributes, photo collages and anything else you may want your funeral program to contain. All our funeral programs are completely customizable, so you can add or remove anything you want from the funeral program template.